Table of Content
Is it Time to Buy A New Home?
How thrilling it can be to purchase a new home! You are constructing a new and promising future for yourself and your loved ones. Whether you're searching for something larger, more contemporary, or with an open floor plan, you may need some assistance getting started. A real estate agent can assist you in determining what you want and in what price range and then bring your dream home to life.
Advantages of Working With A Real Estate Agent
1. Improved Access to Homes
Real estate agents are well familiar with the local market. Although most houses are advertised publicly for prospective purchasers, many owners want to keep their transactions private. There are several reasons for this, such as nosy neighbours, divorce, financial difficulties, health, or simply relatives and friends who do not want to know they are selling their home.
In such situations, a real estate agent can be of great assistance. They can offer you access to a house you would have missed otherwise.
2. Negotiation
A seasoned real estate agent can discover faults with a possible house that may have gone overlooked otherwise. They will examine a home appraisal in great depth and inspect the property personally.
When certain areas demand improvement, your real estate agent can assist you in negotiating. This bargaining procedure involves having the seller fix the problem as part of the contract or decreasing the price to allow future upgrades.
With the support of a skilled real estate agent, these issues may be discovered, or your negotiation abilities may provide the desired result. It might be emotional to consider your prospective future residence.
Regardless of your normal level of composure, purchasing a house is a daunting and thrilling experience. When it comes to receiving what you want and, more significantly, what you deserve, delegating the negotiations to an objective real estate agent who has no emotional relationship with the house can be your saving grace.
3. Paperwork
Undoubtedly, the selling of a property is accompanied by abundant documentation. Some of these documents may include the following:
Deed

Receipt of sale

Declaration of title

Seller's affidavit

Transfer tax statements

Written proposal

Remedial
You'll probably have a whole shelf for your new house. This documentation requires signatures, documents, and copies. A real estate agent can monitor documentation and guarantee it's signed and complete.
Most real estate agents preserve documents for years after a transaction. Your real estate agent is merely a phone call away if you have questions or concerns.
4. Save Money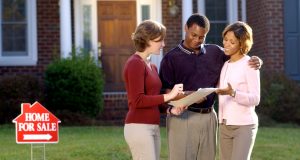 An expert, real estate agent has walked the neighbourhood many times. This implies that they will typically have a great deal of expertise about the worth of certain neighbourhoods and residences. In reality, most experienced real estate agents can determine a house's worth as soon as they enter.
They may direct you to the postings with the most potential to supply you with what you want at the price you want. In doing so, they can save you both time and money by avoiding postings that are unlikely to supply you with what you want.
5. Guidance and Assistance
In addition to being emotionally and mentally taxing, acquiring a house can be thrilling. A real estate agent can give direction and assistance throughout the whole process. Throughout each house viewing, they will be by your side, assisting you in understanding why the design of the home can work for you and your family or why a property is not worth investing in owing to pricey repairs.
Your real estate agent can help you feel secure and at ease during the whole process, finally assisting you in making a choice that will benefit you and your family for many years.
6. Choosing the Right Homes
Is there a specific feature you were seeking in your future home? If you are seeking a particular feature in a property, such as a custom pet bedroom or a backyard landscaping design, an open-concept kitchen or an extravagant vintage-style fireplace, your real estate agent will know where to look.
Agents of real estate want to save your time and money. They are highly attentive when it comes to finding you the precise kind of property you want.
Avoid Concluding Concerns
You want to avoid obstacles in the last hours before the house is legally yours. A competent real estate agent can predict problems from a great distance away, enabling you to overcome hurdles or find solutions before it's too late.
Some potential closure concerns include the following:
Document mistakes

Mortgage delays

Last-minute demands

Confusing titles

Problems during the final inspection
A skilled real estate agent can help you resolve these challenges and much more. Especially when your real estate agent is a member of E-Tree Homes' respected, strategic, and educated team, call us at 909-821-7958 to learn how we can assist you in purchasing your ideal home.